LORENTZ PumpScanner is an app available on Android smartphones and tablets which allows LORENTZ dealers and customers to connect and communicate with any LORENTZ solar pump controller equipped with a DataModule.
All current model Lorentz PS2 and PSk2 controllers sold in Australia, come with a built in embedded DataModule, effectively making them PumpScanner communication 'ready'. The Lorentz PumpScanner is a user-friendly app, which allows technicians and end-users the ability to customize system setup and installations options, apply and adjust operational parameters including pressure settings and timers, activate advanced features, as well as monitor real time 'actual' performance data and access 'stored data'.
The Benefits of using PumpScanner
PumpScanner is a very powerful tool, which gives Lorentz dealers and customers the ability to utilise the same industry leading range of Lorentz controllers to operate across a large range of solar pumping applications.
PumpScanner makes Lorentz PS2 and PSK2 controllers fully customisable to meet the needs of each individual customers application, from the simplest system right through to the most advanced feature rich systems on the market. This is achieved by simply adding additional hardware such as input sensors and adjusting the controller's software settings via the PumpScanner interface.
The Lorentz PumpScanner app is the same standard interface used to communicate with the complete Lorentz controller range. This allows you to communicate with all Lorentz solar pumps in a simple and consistent manner. Whether you are an installer, service technician or customer, PumpScanner will not only save you time and money, but give you the potential to add additional features in the future.
For Lorentz dealers PumpScanner provides:
Simple system configuration via full colour screen viewing on any compatible Android tablet or smartphone.
Quick access to configure and adjust advanced features such as pressure and level control settings.
Access to both real time and stored data.
Advanced fault-finding capabilities.
For Lorentz customers PumpScanner provides:
A simple, easy to use solution to monitor their own solar pumping system's performance, including the ability to see how much water is being pumped at the current time of viewing as well as view historical performance data from the days, weeks, months prior.
Ability to view data about the pump system's current status and any error codes.
Customisable dashboard to view data in a preferred layout.
The capability to have their dealer configure timers and speed control to help them manage water resources.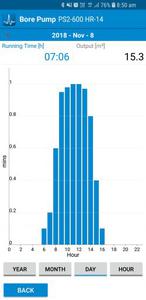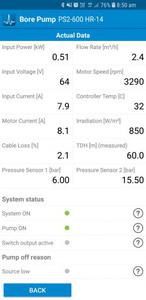 How to Access and Download PumpScanner
PumpScanner is available from the Google Play Store making it easy to access for both dealers and customers. PumpScanner can be directly downloaded on any Android smartphone or tablet with Android 4.3 or higher.
Simply log into the Google Play Store on your Android device:
Search for "Lorentz PumpScanner"
Locate the Lorentz PumpScanner app.
Click on "INSTALL" and PumpScanner will download to your Android device.
Tips for Connecting with PumpScanner via Bluetooth
Once you have downloaded Lorentz PumpScanner to your Android device, ensure the following conditions are met to enable seamless connection:
The Lorentz pump controller is powered up.
Bluetooth communication is 'enabled' on your Android device (you will be able to find information regarding how to do this in your Android device's user manual).
Ensure that the Android device you are connecting with is located within Bluetooth communication range of the Lorentz controller that you are trying to communicate with. i.e. within 5m of the controller.
Open the PumpScanner app on your Android device. This will reveal the following home screen: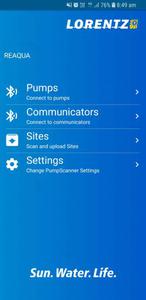 Click on "PUMPS" to reveal a list of pumps that PumpScanner has either previously connected to and/or are in range and available for connection for communication.
Pumps which are "IN RANGE AND AVAILABLE" for connection will show the Bluetooth symbol next to it highlighted in black (as shown below).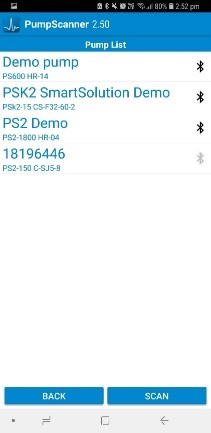 In the picture above, the demo pumps represent a pump which is within range, as the Bluetooth symbols to the right of them are highlighted black. The other pump (18196446) is not available because it is out of range, and thus shows as a grey Bluetooth symbol. To connect simply tap on the desired pump name or serial number to connect to the controller.
PumpScanner User rights and Access levels
Lorentz controllers are delivered with multiple user levels, that grant technicians and users different levels of access rights. Lorentz customers will need to consult with their local authorised Lorentz dealer for information regarding their customer access username and password. Lorentz dealers can contact their local BDM for further clarification regarding PumpScanner access level user name and passwords.