The family have been a part of Sunnydale's history for over one hundred years and work together to operate the 100,000 acre property as a team.
"Recently we've been swapping over from Merinos to meat sheep – mainly Dorpers, because the seasons have been pretty tough the last few years," said Rob.
Overtime, the Pearce family noticed that the use of diesel pumps to provide water to their livestock was consuming a lot of their time, energy and money. They began to research ways to reduce their energy consumption but also ensure their dams remained full for their livestock scattered across their property. Working with Rob Lee of Far West Windmill and Solar in Broken Hill, they began installing Lorentz solar pumps.
"Eighteen months to two years ago we started looking into solar pumps" he said. "I knew a lad called Rob Lee who I used to work with in the mines and he has his own business installing solar pumps, so I thought I would give him a bit of business and I haven't looked back".
Rob now has five Lorentz solar pumps situated around his property. The pumps provide water to multiple dams and troughs for the livestock as well as pump water to his house for domestic use.
"With this setup here, I'm doing away with multiple diesel motors and I'm also saving myself time," explained Rob. "It was an everyday thing to have to drive out to start the pumps and you couldn't really rely on the diesel motors to keep going. By going solar, I reckon I'm saving around $15,000 a year which includes the saving on fuel and maintaining the old pumps".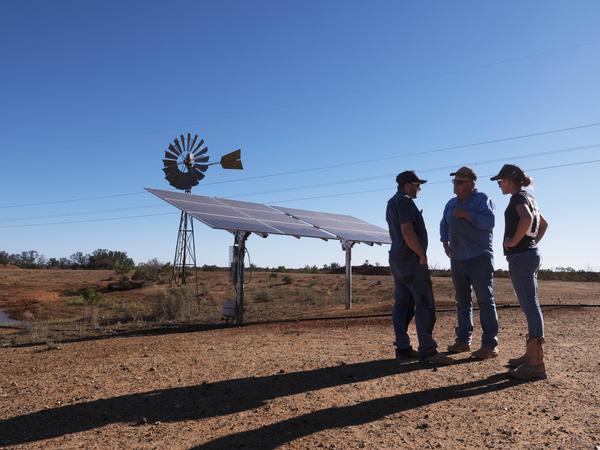 In addition, the solar pumps have the added bonus of a pressure switch meaning the tanks will never overflow. Once the tank is full, the pump will automatically turn itself off.
The technical support Rob Pearce receives from Rob Lee reassures him that if there are any issues with the Lorentz pumps, Rob Lee is just a phone call away.
"Local support with Rob [Lee] is everything. I'm not up to speed with computers and new technology so to have Rob who is only half an hour away, come and answer a couple of questions is fantastic. I couldn't have done it without him."
Speaking to Rob Lee of Far West Windmills and Solar, he explains that this installation could work for any livestock operator throughout Australia.
"The particular pumps that Rob [Pearce] has on his property are running on an inch and a half pipe. Even on a bright sunny day, you're never going to exceed the limits of your pipeline or pressure which is a big plus," explains Rob Lee. "Obviously, the area we're in, it's pretty harsh and there's a lot of long distance pumping and deep bores which require a fair bit of water. But, if it works out here, it'll just about do the job anywhere."
Rob Lee also found the training and support he received from ReAqua Solar Pumping who are the sole Australian distributor of Lorentz solar pumps, helped him and his clients with the best set up possible for their property.
"The ReAqua team know the importance of water," he said.
For Rob Pearce, having the Lorentz solar pumps at Sunnydale allows him to use the valuable time he's saved from not having to check his diesel pumps and invest it into other projects throughout the property.
"I'd absolutely recommend Lorentz gear. I think it's the hidden gem that a lot of people don't really know about," he said. "In this western division where the areas are big, you've got to have something that's 100% reliable and with the Lorentz gear you don't have any trouble, so going forward the sky's the limit."