LORENTZ AUSTRALIA DEALER SPOTLIGHT
Remote Water Management from Gin Gin, Queensland
Remote Water Management (RWM) is a Lorentz Australia authorised dealer that supplies solar water pumps to the Fraser Coast regions in Queensland.
Owned and operated by Ken Schuster, the company supplies pumps to a range of farming properties and mining sites in the area – with one site, in particular, being a core focus in the last five years.
The company first approached RWM six years ago, and since then the team has installed 11 pumps and have more in the pipeline. With no mains power in the area, they needed to utilise solar with 24/7 capabilities for seepage mitigation from a containment dam.
"We suggested solar pumps with battery backup systems would be the perfect solution for this situation." reflects Ken.
The research was done to identify the areas and fractures in the rock where the pump back bores would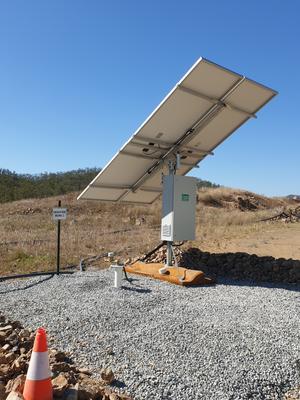 be most effective. The idea was to create a subterranean hydrological gradient to capture any seepage that was heading off-site.
"Instead of flowing downhill as water does, we created a dish to capture that seepage and return it to the dam."
The 11 pump-back bores are strategically placed along the perimeter of the dam, and Ken says results have been positive since these installations have been operating – especially when there's plenty of rain flushing through the system.
"The company continues to come back to us for more pumps, and we're in the process of installing another two. LORENTZ pumps prove to be rock solid, and these ones are even more reliable thanks to being connected to our battery backup and Satellite telemetry monitoring systems ensuring they are running 24/7.
"This creates a constant bore level. When the set level is approached, the pumps slow down and maintain that level. The information from the bore level sensor is sent to the pump controller which adjusts the pump-speed as necessary.
"Several of these pumps have been deployed and operational for six years and have not missed a beat."
What other benefits have LORENTZ solar pumps had on this mining site?
Ken outlines that a couple of the installations also capture surface seepage. These have wells with rubble drains and solar pumps in the wells where the seepage drains into.
"There is one in particular that's loaded with three pumps. During heavy rainfall events we are challenged to deal with considerable rainwater harvest," explains Ken.
"In this instance, one pump handles the seepage, a second is activated when inflow is increased due to rainfall and the third kicks in during those heavy rainfall events to ensure all water is returned to the dam.
"The reason we've set it up this way is because the flow can vary exponentially, meaning it's hard to cover the range with just one pump. It helps to guarantee redundancy if one pump were to ever fail in these heavy rain events."
Why does Remote Water Management choose to stock and install LORENTZ pumps alongside Lorentz Australia?
When Ken started to branch out into solar and as more requests came through from customers, he found LORENTZ during his research and discovered they're committed to producing a good quality product.
"We then applied to be a dealer, and everyone was so obliging during the process. Within weeks, our Regional Manager Glenn Miller had already come to visit us.
"These products have stood the test of time with our customers and we stand behind this product 100%. LORENTZ has come through with flying colours."
Ken says he can't speak higher of a regional manager than he can about Glenn Miller.
"I'm sure he's forgotten more than I know about pumps and pumping systems - when I've rung him about unrelated situations, he always has an answer thanks to his extensive experience across the industry. He truly goes the extra mile.
"The warehouse team down in Lonsdale, South Australia is also excellent. From placing an order, we have confirmation within a few hours and the product within a few days. They're very professional, easy to work with and their customer service is exceptional.
Are you in the pumping business and looking to source the top solar pumping product for your customers? Join the Lorentz Australia dealer network and gain access to industry-leading products, service and support.