Australia's leading distributor of solar water pumping technology, REAQUA, has turned its focus to the livestock sector in QLD and the NT to satisfy demands of producers who are rapidly turning to solar pumps as part of their water development projects.
Managing Director Ben Lee said REAQUA has worked closely with LORENTZ, their German manufacturer, to develop products specifically suited to the Northern livestock market. "We have a range of solar pumps able to lift water from bores over 100 meters deep and push it several kilometers through pipelines to a tank or trough," Ben said.
For pastoralists looking at water development projects, this is all about reducing their operating costs. It means fewer pumps, reduced maintenance and no ongoing diesel costs," he said. Ben and his brothers Tim and Jock have long-held an interest in the capabilities of solar energy. Raised in Gunnedah NSW, the three Lee brothers now own and operate a local pump irrigation business where they work closely with graziers and irrigators. Ben said their decision to purchase REAQUA was influenced by their passion for solar technology and their firm belief that solar pumping is the future of the livestock industry.
"People generally accept that solar pumps are now mainstream technology, but there is still a misconception that solar can only deliver small volumes of water.
"However for the vast majority of graziers, we can deliver off-the shelf products to completely replace their diesel pumps."
Additionally, REAQUA uses technological developments to improve ease of use for their customers. Their pumps come with standard remote monitoring systems, which allow farmers to remotely oversee the status of their pumping systems. Reliability is another key advantage of REAQUA's solar technology.
"REAQUA's product range comes from our exclusive partnership with LORENTZ. "These pumps have been operating in harsh environments in Africa, Asia and the Middle East for over 20 years. They're hardy, maintainable products that just keep on working."
REAQUA also provides a level of service that is unmatched by their multinational competitors.
"We work closely with our carefully-selected dealers, regularly travelling out to our clients to design livestock watering systems, install products, and train staff in the proper repair and maintenance of their pumps."
REAQUA's goal is simple.
"We want to deliver reliable solar pumping solutions for our clients that will see more dollars in their pockets and cut reliance on expensive and high-maintenance diesel pumps."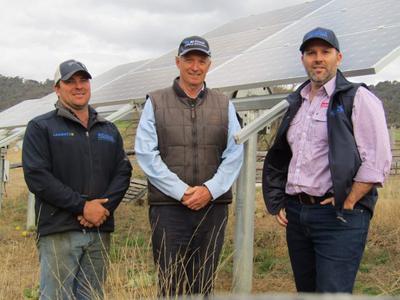 REAQUA Director Jock Lee, Blooms Water's Nick McGhie and REAQUA Managing Director Ben Lee at the farm of Bruce Chapman,
Bendemeer, New South Wales.