The Problem
David Croxford is an agronomist with local business Bega Agricultural Services from Bega Valley, New South Wales – an authorised ReAqua dealer. He also helps manage his family's orchard, Mulbrook Orchards, in Kameruka where they grow stone fruit and pome fruit for the organic markets.
The family was using a Mono AGM820 pump with a Diesel Engine and wanted to reduce pumping costs, without having to replace the pump itself, so considered how to convert the system to stand alone solar.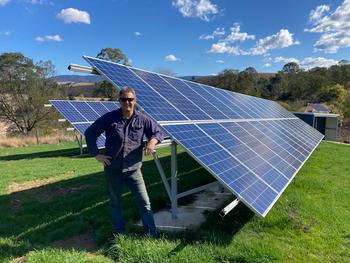 "We wanted a solution that would provide lower running costs and fit with our philosophy of "growing greener" reflects David.
Working for Bega Agricultural Services, an authorised dealer of ReAqua, David had worked with Lorentz pumps for his own customers, so he too looked to Lorentz for his own solution.
"The Capital cost of conversion was always a consideration" said David, "however it was just as important for us to be confident that this capital investment was going to be reliable and Lorentz systems was able to provide that confidence."
David was able to provide Lorentz with his water requirements and the specifications of his current pump, and our design team designed a system (solar array size, controller and motor) that he required. After checking the design David's solar installer stated that "the system was as efficient as he had ever seen."
The pump is now controlled via the PSk2 Lorentz smart controller. The Lorentz App and the controller has full functionality allowing for all safety shutdowns (loss of suction, over pressure, under speed, etc) to be fully programmed.
The Solution
In March 2020, Bega Agricultural Services installed a Lorentz PSK2-15 on 60x 275-watt panels and a 11kw 2pole WEG motor with detailed design.
It wasn't a simple installation – the Bega Ag team were challenged with converting the orchard's Mono Diesel system to solar, but they tackled it head-on.
The pump has a suction lift of 5 meters out of a creek which pumps up to 80 meters head and delivers 7 litres per second to a 250m3 tank on top of the hill.
When this tank is full, it overflows into a nearby dam – once this dam is full, it will secure up to three years' worth of water for the property.
The Drip Irrigation system for the orchard, gravity feeds from this header tank, so coupled with the Lorentz solar pumping system Mulbrook Orchard's now have effectively zero running cost for irrigation.
This installation didn't come without its hurdles, but the ReAqua team were determined to do everything in its power to ensure David had a fully functional solar pumping system.
"When we installed the pump, I also installed a separate ReAqua pressure sensor for safety reasons. Unfortunately, it was faulty, so when I called ReAqua's customer service to let them know, I had a new pressure sensor sitting at my desk within 24 hours – I was very impressed."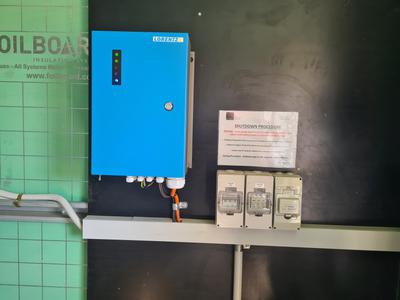 THE OUTCOME
18 months on, David's family's cost of irrigation is effectively zero.
"Now that we use solar energy to pump water from our creek to the header tank, and gravity drop to irrigate, the cost has not only decreased astronomically – it's essentially non-existent.
"I'm a massive advocate for solar pumps and I'm very excited to have the Lorentz system on our property."
"The opportunities for solar pumps are massive for all types of operations. In our situation, being able to run a zero-cost irrigation system is incredible."
Are you looking for next-to-zero ongoing irrigation costs for your operation? Lorentz solar pumps are the choice for you. Get in touch today to discuss what pump will suit your property best.